+44
01302 714 513
info@s3i.co.uk

Eye Nut, Commercial Grade, Stainless Steel
Commercial Eye Nut
Stainless Steel Commercial Eye Nut
All in 304 grade stainless steel.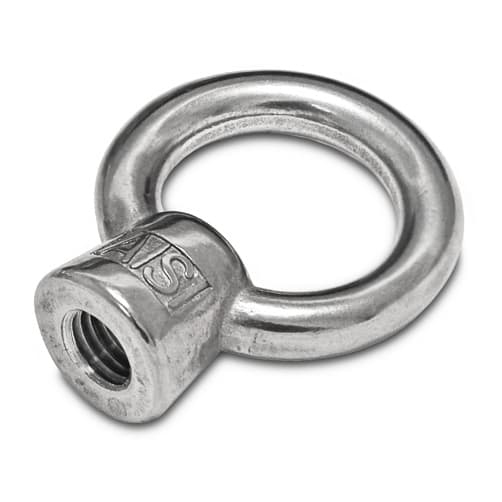 Commercial Eye Nut
Available Options
d
c
(mm)
b
(mm)
a
(mm)
H
(mm)
Break Load
(Kg)
Code
Price (ex VAT)
M6 Eye Nut :
M6
5
16
25
31
990
CEN-M6
£1.81
M8 Eye Nut :
M8
6
20
33
38
1300
CEN-M8
£2.37
M10 Eye Nut :
M10
8
25
41
49
2600
CEN-M10
£3.68
M12 Eye Nut :
M12
10
30
50
60
3400
CEN-M12
£5.46
---
Information
How should you select the right eye bolt?
Use plain or shoulderless eye bolts or ring bolts for vertical loading only.
Angle loading on shouderless eye bolts will bend or break them.
Use shoulder eye bolts for vertical or angle loading.
How should you use stainless steel eye bolts safely?
Orientate the eye bolt in line with the slings. If the load is applied sideways, the eye bolt may bend.
Pack washers between the shoulder and the load surface to ensure that the eye bolt firmly contacts the surface.
Ensure that the nut is properly torqued.
Engage at least 90% of threads in receiving a hole when using shims or washers.
Attach only one sling leg to each eye bolt.
Inspect and clean the eye bolt threads and the hole.
Screw the eye bolt on all the way down and properly seat.
Ensure the tapped hole for a screw eye bolt (body bolts) has a minimum depth of one-and-a-half times the bolt diameter.
Install the shoulder at right angles to the axis of the hole.
The shoulder should be in full contact with the surface of the object being lifted.
You haven't added anything into your basket yet