+44
01302 714 513
info@s3i.co.uk

Wire Cross Clamp (Net Clip) - Flexible, Stainless Steel
Cross Clamp - Flexible Fixing
Stainless steel 316 grade.
Cross Clamp - Flexible
---
Information
Clamps for the connection of wire rope crossing at under or over 90 degrees.
The cross clamp is fixed to the wire with small Allen keys and must be installed on the wire before the end fitting
Net Clips are used where crossed wires need connection e.g. for wire nets.
Also commonly used as a basis for a steel wire trellis.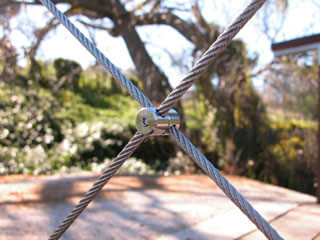 You haven't added anything into your basket yet