+44
01302 714 513
info@s3i.co.uk

Wichard Webbing Snap Hook
Wichard Webbing Snap Hook
Stainless Steel Webbing Snap Hook. Made by Wichard.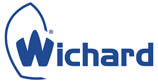 Wichard Webbing Snap Hook
Available Options
Length
(mm)
A
(mm)
B
(mm)
Break Load
(Kg)
Code
Price (ex VAT)
30mm Webbing Snap Hook :
60
8
30
300
WSH60
£12.80
---
Technical Information
Wichard snaps and hooks, are the product of cutting-edge technological development, they are simple, safe and strong.
Registered design, made in France.
Outstanding working loads in all positions.
Compact design.
The Wichard range intended for safety fixing of deck and rigging components, provides an elegant and effective solution.
The range is also used in the industrial sector for architectural purposes and interior applications.
You haven't added anything into your basket yet