Balustrade Wire Kits | Surface Mount
Balustrade Wire Kits, Surface Mount
Self Assembly Wire Balustrade Kits, Flat Mount

Balustrade Wire Kit - Surface Mount
Sealey Wire Cutter for 5mm Wire Rope
UK made stainless steel balustrade wire kits usually delivered 48 hours from order.
---
Installation


Remember - measure twice, cut once! Please be as accurate as possible. Each cable will have an adjustment of plus or minus 20mm.

TIP: You can run cables up to 10 metres passing through any intermediate posts to minimise the number of cables you'll need!
Mounting the balustrade wire sockets:
These deck balustrade wire system is designed for either timber posts or masonry wall surfaces using a 3" countersunk wood screw (supplied).
If mounting to masonry surfaces please drill a hole and insert a plastic plug before fastening. Sometimes if a wall is particularly brittle or old - a chemical resin may be applied to further strengthen the hold.
---
Self Assembly Instructions
Stainless Steel Compression Fitting Instructions
1. Cut the wire rope to length. A pair of good wire rope cutters will provide the cleanest cut.
---
2. Place the threaded cone chamber over the stainless steel wire rope.
---
3. Thread the cone onto the wire and push into the threaded cone chamber.
---
4. Take the stainless steel Body and push onto the wire, eventually bringing the three component parts together. Turn in opposite directions to thread them together.
---
5. Using a pair of spanners screw the two sections together until tight
---
Download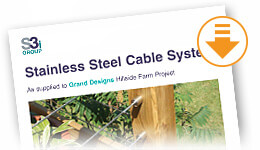 CABLE SYSTEM BROCHURE download here
You haven't added anything into your basket yet