+44
01302 714 513
info@s3i.co.uk

Snap Shackles - Stainless Steel Fixed Eye and Swivel Eye Fork Snap Shackle
Stainless Steel Snap Shackles
---
General Information
Snap Shackles - Stainless Steel - Fixed and Swivel Snap Shackle
Manufactured from 316 grade stainless steel
Fixed eye stainless steel snap shackle - General purpose snap shackle. Mainly for genoa halyards, preventers, uphauls, downhauls and outhauls
Swivel eye stainless steel snap shackle - General purpose snap shackle. Mainly for spinnaker halyards
Our stainless steel snap shackles used with webbing create great quick release tie downs or try them with our pad eyes for a wide range of uses.
---
Wichard Snap Shackles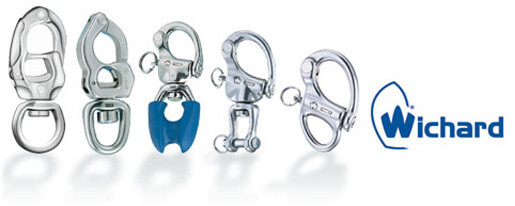 Offering you a complete range of high quality - versatile snap shackles from Wichard. Including: fixed, swivel, trigger and quick release models. These are available in marine grade stainless steel and a selection of ultra light titanium.
Their innovative design provides an outstanding strength/weight ratio - giving you incredible working and breaking loads. All with a superb finish that you would expect from quality products.
You haven't added anything into your basket yet