Chemical Anchors Injection Resin - Epoxy Acrylate, Chemical Bonding Agent
Chemical Anchor Injection Resin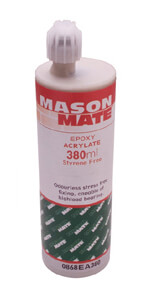 Chemical Anchors - Injection Resin
Available Options
Size
(ml)
Content
Supplied with
Code
Price (ex VAT)
380ml Injection Resin :
380
Epoxy Acrylate
1 Nozzle
CHEM-410
£19.95
Injection Resins are used for fixing anchor points in awkward materials or where access may be difficult.
Epoxy Acrylate is ideal for improved chemical anchor performance in concrete, masonry, damp or corrosive conditions.
Polyester resin creates a stress free chemical bond between the stud and the substrate (brick, concrete or block).
Tubes come with one mixing nozzle. The 380ml tube requires the applicator gun.
Available in cartridge form used with a cartridge gun or glass hammer in capsules for use with rebar or threaded rod in concrete and masonry.
Cure times
| | | |
| --- | --- | --- |
| 25°C | 3mins | 30mins |
| 15°C | 6mins | 35mins |
| 5°C | 12mins | 50mins |
| -5°C | 50mins | 90mins |
How to use

Essential partner product
You can only apply this product using the Heavy Duty Injection Gun.
You haven't added anything into your basket yet