Posilock Wire Cable Display System: Sign, Picture and Shelf Hanging
Posilock Wire Display & Hanging System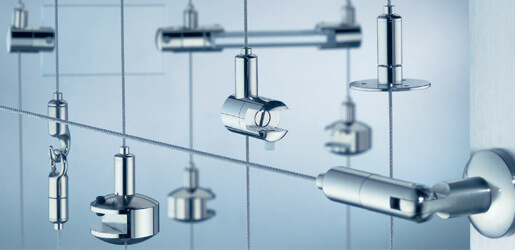 ---
About Posilock Display System
Posilock is a unique cable display, sign and picture hanging system. The posilock cable suspension system is innovative and fully expandable.
Posilock is ideal for museums, art galleries, public buildings, corporate identity, or wherever visual communication is important.
The Posilock cable display and sign hanging system is convenient and easy to assemble. Posilock is well suited to current trends in interior design, offering elegance and transparency for cable suspension systems in the home or workplace.
Posilock is available in two ranges: M8 for 1.5mm cable and M10 for 3mm cable.
The Posilock system MUST be used in conjuction with 7x7 construction stainless steel wire rope only.
Please note that Posilock is ONLY suitable for interior applications.

You haven't added anything into your basket yet