Shackle Testing to BS EN 10203 3.1b Lifting Equipment Regulations
Testing & Certification
Stainless Steel Shackles Tested & Certified To BS EN 10203 3.1b
If you require our standard 316 stainless steel shackles to be supplied tested & certified, please contact us, and we will be happy to carry this out.
Once Tested, each shackle is individually marked with a batch reference number and a Safe Working Load (SWL). A certificate will be issued.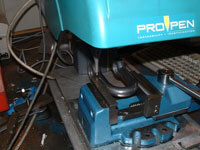 Tested shackles will comply with lifting equipment regulations.
Please contact us to discuss your requirement
Page content by Nick Arrowsmith Google+
You haven't added anything into your basket yet